January 9, 2020
Through a Small Business Innovation Research grant from America's Seed Fund by the National Science Foundation, Games and Learning, Inc. surveyed educators in the First Book network on their current use of digital learning tools. 
Consistent with several years of prior research with First Book members, we heard that educators embrace digital learning benefits but struggle to find, buy and adopt high-quality materials.
Three out of four educators reported using educational apps at least several times per week, primarily to help students learn and apply core lessons. 
The way content is accessed, however, varies significantly by educator. Of the 67% of educators with access to Chromebooks, 40% are able to assign students their own device and 39% have students access Chromebooks on carts shared across classrooms.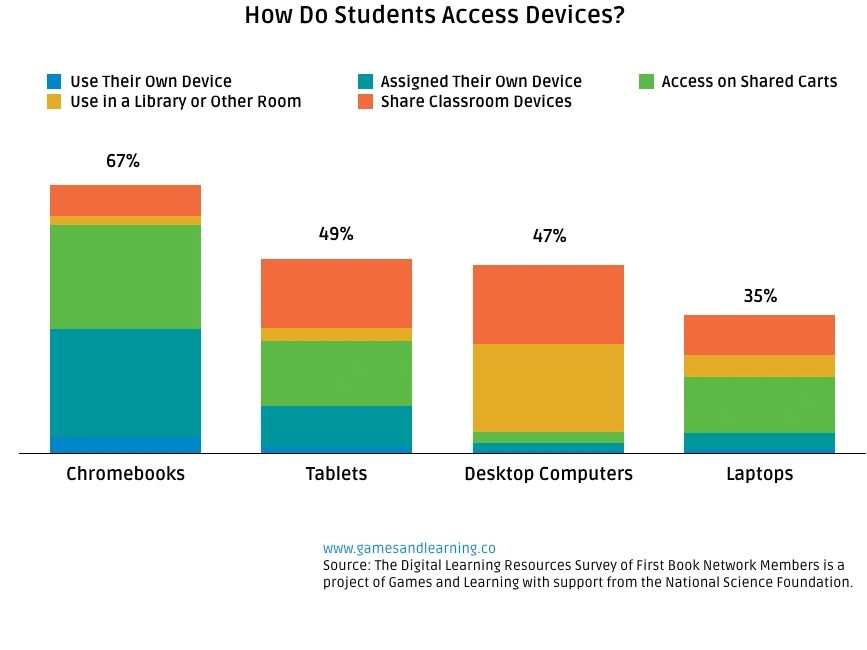 The current mix of devices and level of access poses implementation challenges. As a teacher from Lexington Park, Maryland noted, "The greatest obstacle is when I am trying something new with students and I am struggling [with] learning it and getting comfortable with it with the student there. When there is a glitch or I am trying to figure out the technology and too many students need my help all at the same time, it is stressful." A specialist teacher from Madison, Wisconsin added, "Our school district keeps changing devices based on pricing, so I need something that can work on multiple platforms."  
While more than half of respondents prioritize technical compatibility and support materials, an overwhelming 88% rank student engagement as their most critical component for purchase.
A school librarian/media specialist from Ann Arbor, Michigan commented, "The greatest challenge is the way most digital learning tools capitalize on the interest of children without delivering a meaningful product. Many digital learning tools are rewards-based games that don't touch the crucial components of authentic learning."
Half of all survey respondents say they make recommendations to those who purchase digital resources. Gathering recommendations from fellow educators is the most common method for discovering new materials.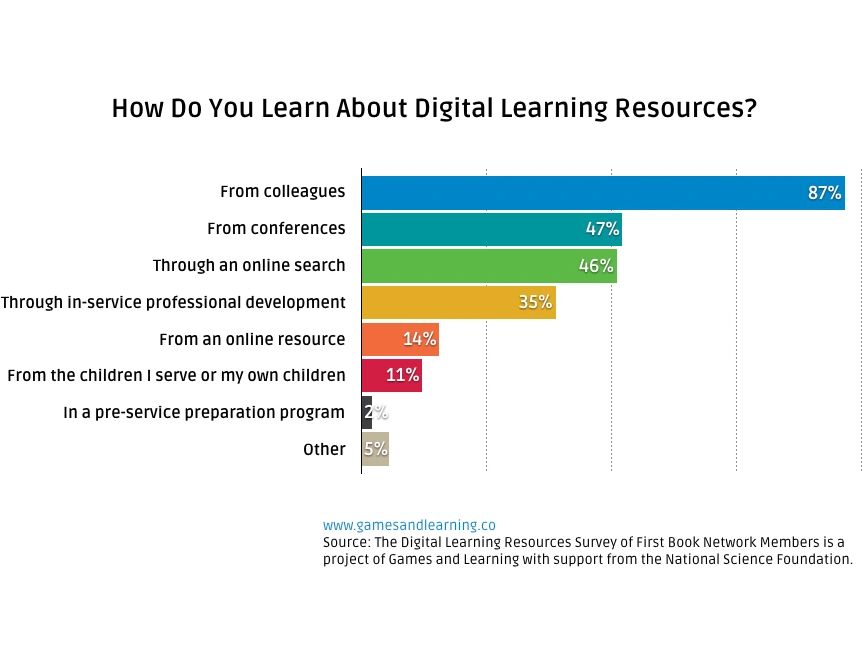 "I don't have time to research to find new resources and I don't like to spend a lot of my personal money until I know that it will do what I want or need it to do in my classroom to compliment my instruction," said one teacher.  Another librarian/media specialist from San Antonio, Texas noted, "Getting teacher buy-in can be challenging, without explicit examples of how the technology could be used to improve lessons."
Using these insights and other feedback gathered from surveys, focus groups and educator interviews, Games and Learning is developing a new digital learning distribution channel.  The channel will be piloted within First Book's existing Marketplace, where members spend more than $20 million per year on educational materials. First Book's mission is to break down barriers to quality education for under-resourced communities, making educational resources more affordable and accessible to its member network of more than 450,000 registered educators who serve children in need. 
Methodology
Participants from this study were registered First Book members, who work in classrooms or programs in which at least 70 percent of the children served come from low-income families. Participants were recruited based on their experience using digital learning resources in the classroom. Recruitment also focused on First Book members who serve grades 3 through 5. First Book member participants in this study are referred to as "educators" when speaking about the entire survey population. The 508 respondents of this survey represent 408 schools and 73 non-school organizations in the United States.
The survey was administered between September 17th and October 25th, 2019.